How to obtain Visa on Arrival in Nigeria
Finding the Nigeria Embassy in your country of residence when in dire need of an entry visa can be quite difficult. Even if you do, there might be several travel hours to get there. Or you suddenly realized you need to make an urgent trip to Nigeria! For a quick business, work, or tourism trip to Nigeria, Visa on arrival is one of the best and easiest ways to get entry into Nigeria.
What is Visa on Arrival
Visa on Arrival is simply the issuance of a short entry visa at the port of entry to individuals that have difficulties obtaining visas at the Nigeria Embassies in their residing countries. These individuals may include;
High net worth investors
Government Delegation Members
Companies Executives
NGO's Members
Intending visitors/tourists
It is important to note that a visa on arrival does not grant you access to work or reside in Nigeria.
It is issued with restrictions to Employment and Residence Visa and having a Visa Approval Letter at hand at the Nigeria port of entry.
If you are interested in getting a work permit in Nigeria, you can also read our article on How to Obtain a Nigeria Temporary Work Permit.
What is an Approval Letter?
The Approval Letter is the documentary evidence that your visa on arrival is already approved and will be issued upon your arrival at the port of entry in Nigeria.
This is the document that kickstarts the decision to get on the plane, proceed to Nigeria without a visa with the knowledge of picking up your entry visa at the point of entry.
This document is different from Visa on Arrival as, without it, you can't pick up your visa at the port of entry as it is proof of a visa completed process.
It usually takes 48hours (2) working days to be processed and taken into cognizance it must be processed two weeks before your exact day of travel/arrival i.e., it has 14 days validity period.
A traveler must endeavor to print and carry along the Approval Letter copy with him when finally making his journey to Nigeria.
A sample of the Approval Letter is shown below;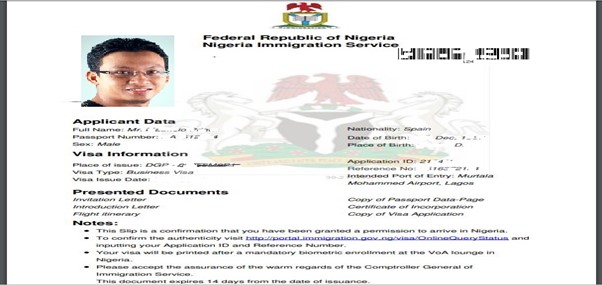 What is the cost of a Visa on Arrival to Nigeria?
According to the Nigeria Immigration Service (NIS), the charges vary according to the nationality of the person.
Below is a list of visa on arrival fees for some major countries;
| | | |
| --- | --- | --- |
| Nationality | Single Entry Fee | Multiple Entry Fee |
| South Africa | US$58 | US$103 |
| Kenya | US$25 | N/A |
| Mauritius | US$2 | US$2 |
| United Kingdom | US$144 | US$472 |
| United States of America | US$160 | US$160 |
| Germany | US$88 | US$110 |
| Canada | US$75 | US$150 |
| China | US$64 | US$64 |
| Japan | US$36 | US$36 |
| Taiwan | US$50 | US$100 |
| India | US$253 | US$253 |
| Italy | US$88 | US$110 |
| Netherlands | US$88 | US352 |
| Turkey | US$32 | US$32 |
| United Arab Emirates | US$150 | US$300 |
For more information on the immigration fees and charges for visa on arrival, multiple entry visa, STR, etc please, visit https://portal.immigration.gov.ng/pages/visaguidelines for a vivid knowledge of the charges.
What are the procedures to apply for a Visa on Arrival to Nigeria?
It is necessary to fully understand the processes to apply for a visa on arrival. The steps involved are broken down clearly below;
STEP 1
Log onto the NIS portal and begin your application and make payment via the portal or it could be processed via an agent.
https://portal.immigration.gov.ng/
STEP 2
Provide the required documents and details below for submission on the portal or via an agent to get the Visa Approval Letter. Once submitted, it takes 48 hours for the application to be processed.
Passport Photograph
A copy of your passport Bio-Data Page
An invitation Letter from a resident of Nigeria/host company or a NGO'S letter of permission
Copy of your Airline Ticket
An application letter addressing the Comptroller General of Immigration, NIS HQ Abuja including these details;
Your name as an applicant including your nationality
Your passport number
Your purpose of visit
Your proposed date of entry
Your flight itinerary
Your proposed address in Nigeria
Upon successful processing of your visa on arrival application, you will receive a visa approval letter electronically. Once you receive this approval letter, please do well to print a copy for your travel to Nigeria.
STEP 3
Upon arrival at the airport in Nigeria, please proceed to the Visa on Arrival Section for the Visa issuance and Immigration Clearance. To have a smooth ride, come along with the documents below to show them at the point of entry;
A 14 day valid visa approval letter
Valid passport with minimum of (6) months
A receipt of your payment
A valid airline return ticket
A 48 hours valid PCR/COVID test
A Yellow Fever Card
What does a Visa Approval Letter and Visa on Arrival look like?
Below is what a visa on arrival to Nigeria looks like;

Is my country excluded from obtaining Visa on Arrival?
Most Countries are required to obtain an entry visa to Nigeria. Nationals from the following countries or regions are however exempted and hence enjoy visa-free status.
Ecowas Citizens who are guaranteed a free movement without visa
The Caribbean region (Barbados and Trinidad and Tobago).
Conclusion
I believe we have helped you recognize how easy it is to make a quick trip to Nigeria without the hassles that have been perceived to abound.
You should also note that nothing less than 30days stay will be granted to you upon your arrival in Nigeria. This will be issued in accordance with your nationality and VOILA! You are of utmost welcome to Nigeria.
If you still need any other information after reading our golden piece, please reach out here and we will be happy to help.