Why Invest in Nigeria?
Nigeria is Africa's largest economy, the sixth largest population in the world, and a good country to invest in. According to Wikipedia, as of January 2022, Nigeria had a population of 215 million (approximate) with young people in the 0-14 age group representing 42-54% while the 15-35 age range also represents 36%. The population is estimated to grow to 480 million by the end of the year 2050. This highlights its vast human capital (https://en.wikipedia.org/wiki/Demographics_of_Nigeria / https://data.worldbank.org/indicator/SL.TLF.TOTL.IN?locations=NG).
Nigeria is endowed with creative, innovative, and hardworking individuals that cut across industries, mostly championing the technology space. The country is one of Africa's top economies to invest in.
A Land Full of Natural Resources.
Nigeria is one of the countries in the world that is widely rich and diverse in natural resources, with the resources spanning from minerals, petroleum, agriculture, and many others.
These resources cut across the 37 states in the country, and its agriculture and petroleum products are the major primary exports, making it accountable for 90 percent of the country's exports.
Nigeria first discovered coal in 1909, and more coal was discovered by other explorers in 1918. It is still regarded as one of the best coals in the world because of its low sulphur and ash content, which makes it eco-friendly.
The country has about 3 billion tons of coal preserved, compared to 1.5 million tons of rock salt, one of the most in-demand natural resources. There are 700 million tons of bentonite, 7.5 million tons of barite, 1 billion tons of gypsum, 4 billion tons of talc, and an estimated 10 million tons of zinc, which contains 3 billion tons of iron ore. — Source: https://www.legit.ng/1161400-list-natural-resources-nigeria-locations.html
Nigeria's FDI Report
Nigeria has the third-highest level of Foreign Direct Investment (FDI), making it a great place for investors who access untapped opportunities in which they can invest in.
With its enormous potential for growth in the West African Sub Region and Sub-Saharan Africa, Nigeria's FDI is estimated to grow to over 750 billion USD by the fourth quarter of 2022.
According to the Central Bank of Nigeria, Nigeria attracted a sum of $223.3 million in Foreign Direct Investments (FDI) in the first five months of 2022, between January and May of the year, with a 3.7% increase compared to the $215.3 million recorded in the corresponding period of the previous year.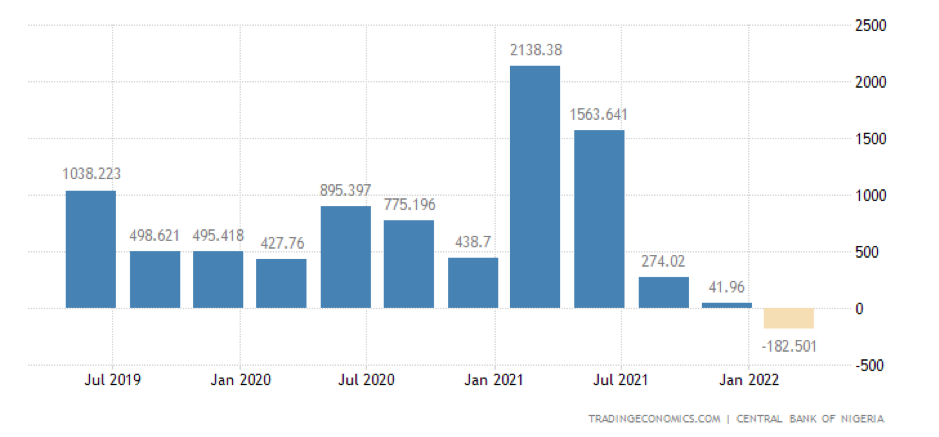 Nigeria's GDP Report
The Gross Domestic Product (GDP) in Nigeria was worth 440.78 billion US dollars in 2021, according to official data from the World Bank. Nigeria's GDP value represents 0.05 percent of the world economy. Source: World Bank
The Benefits of Investing in Nigeria
Abundant Resources: As mentioned above, Nigeria has vast human capital resources. There are tremendous investment opportunities that exist in Nigeria's mineral and agriculture sectors due to the endowment of agricultural, mineral, and petroleum resources.
These resources are conveniently used for the country's economic purposes through exporting and trading and serve a huge investment turnover, while its booming textile and fabric industries serve a great amount of investment inflow.
Opportunities in Nigeria – Resources and their locations
| | |
| --- | --- |
| Agricultural Resources | Location |
| Cocoa | Edo, Anambra, Imo, Kwara, Ondo, Ogun, Osun,Oyo |
| Coffee | Kwara, Bauchi, Osun |
| Cotton | Katsina, Kano, Niger, Kwara, Sokoto |
| Groundnut | Ebonyi, Katsina, Sokoto, Kano, Niger |
| Kolanut | Ogun, Oyo, Osun, Kwara |
| Oil Palm | Akwa Ibom, Imo, Anambra, Oyo, Abia |
| Plantain | Ogun, Oyo, Osun |
| Rubber | Delta, Cross River, Ogun, Edo |
| Sugarcane | Sokoto |
| Timber | Edo, Ogun, Delta |
| | |
| --- | --- |
| Location | Mineral Resources |
| Abia | Gold, Lead/Zinc, Limestone, Oil/Gas & Salt |
| Abuja | Cassiterite, Clay, Dolomite, Gold, Lead/Zinc, Marble & Tantalite |
| Adamawa | Bentonite, Gypsum, Kaolin & Magnesite |
| Akwa-Ibom | Clay, Lead/Zinc, Lignite, Limestone, Oil/Gas, Salt & Uranium |
| Anambra | Clay, Glass-Sand, Gypsum, Iron-ore, Lead/Zinc, Lignite, Limestone, Phosphate & Salt |
| Bauchi | Gold, Cassiterite (tine ore), Columbite, Gypsum, Wolfram, Coal, Limestone, Lignite, Iron-ore & Clay |
| Balyesa | Clay, Gypsum, Lead/Zinc, Lignite, Limestone, Manganese, Oil/Gas & Uranium |
| Benue | Barite, Clay, Coal, Gemstone, Gypsum, Iron-Ore, Lead/Zinc, Limestone, Marble & Salt |
| Borno | Bentonite, Clay, Diatomite, Gypsum, Hydrocarbon, Kaolin & Limestone |
| Cross River | Barite, Lead/Zinc, Lignite, Limestone, Manganese, Oil/Gas, Salt & Uranium |
| Delta | Clay, Glass-sand, Gypsum, Iron-ore, Kaolin, Lignite, Marble & Oil/Gas |
| Ebonyi | Gold, Lead/Zinc & Salt |
| Edo | Bitumen, Clay Dolomite, Phosphate, Glass-sand, Gold, Gypsum, Iron-ore, Lignite, Limestone, Marble & Oil/Gas |
| Ekiti | Feldspar, Granite, Kaolin, Syenite & Titanium |
| Enugu | Coal, Lead/Zinc & Limestone |
| Gombe | Gemstone & Gypsium |
| Imo | Gypsum, Lead/Zinc, Lignite, Limestone, Marcasite, Oil/Gas, Phosphate & Salt |
| Jigawa | Butyles |
| Kaduna | Amethyst, Aqua Marine, Asbestos, Clay, Flosper, Gemstone, Gold, Graphite, Kaolin, Hyanite, Mica, Rock Crystal, Ruby, Sapphire, Sihnite, Superntinite, Tentalime, Topaz & Tourmaline |
| Kano | Cassiterite, Copper, Gemstone, Glass-sand, Lead/Zinc, Pyrochinre & Tantalite |
| Katsina | Kaolin, Marble & Salt |
| Kebbi | Gold |
| Kogi | Cole, Dolomite, Feldspar, Gypsum, Iron-ore, Kaolin, Marble, Talc & Tantalite |
| Kwara | Cassiterite, Columbite, Feldspar, Gold, Iron-ore, Marble, Mica & Tantalite |
| Lagos | Bitumen, Clay & Glass-sand |
| Nasarawa | Amethyst (Topaz Garnet), Barytex, Barite, Cassirite, Chalcopyrite, Clay, Columbite, Coking Coal, Dolomite/Marble, Feldspar, Galena, Iron-ore, Limestone, Mica, Salt, Sapphire, Talc, Tantalite, Tourmaline Quartz & Zireon |
| Niger | Gold, Lead/Zinc & Talc |
| Ogun | Bitumen, Clay, Feldspar, Gemstone, Kaolin, Limestone & Phosphate |
| Ondo | Bitumen, Clay, Coal, Dimension Stones, Feldspar, Gemstone, Glass-Sand, Granite, Gypsum, Kaolin, Limestone & Oil/Gas |
| Osun | Columbite, Gold, Granite, Talc, Tantalite & Tourmaline |
| Oyo | Aqua Marine, Cassiterite, Clay, Dolomite, Gemstone, Gold, Kaolin, Marble, Sillimanite, Talc & Tantalite |
| Plateau | Barite, Bauxite, Bentonite, Bismuth, Cassiterite, Clay, Coal, Emerald, Fluoride, Gemstone, Granite, Iron-ore, Kaolin, Lead/Zinc, Marble, Molybdenite, Pyrochlore, Salt, Tantalite/Columbite, Tin & Wolfram |
| Rivers | Clay, Glass-Sand, Lignite, Marble & Oil/Gas |
| Sokoto | Clay, Flakes, Gold, Granite, Gypsum, Kaolin, Laterite, Limestone, Phosphate, Potash, Silica Sand & Salt |
| Tariba | Lead/Zinc |
| Yobe | Soda Ash & Tintomite |
| Zamfara | Coal, Cotton & Gold |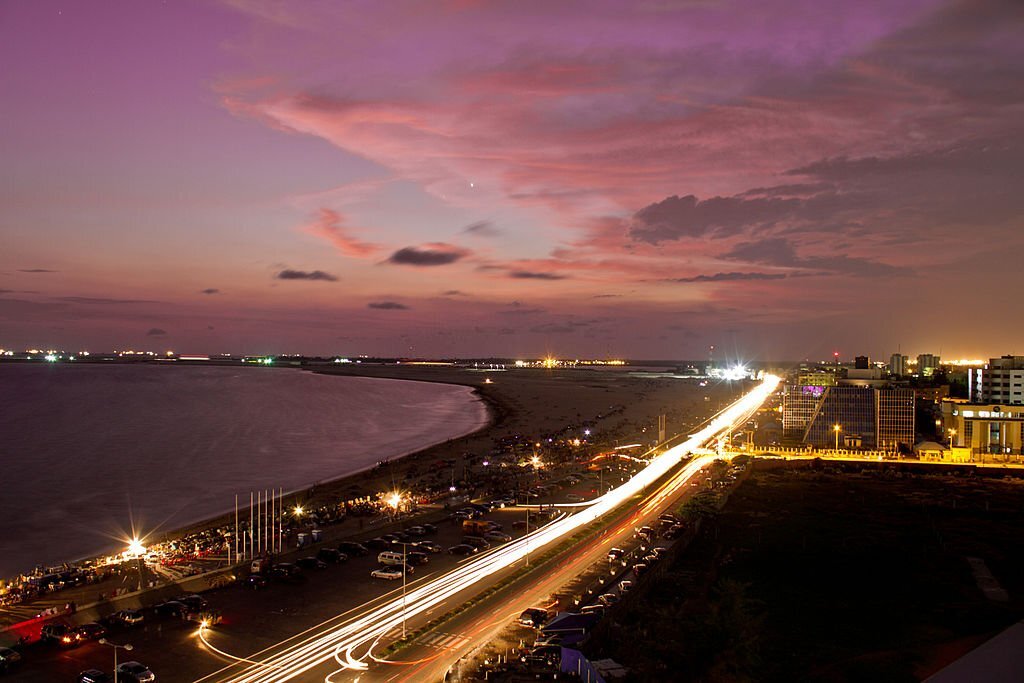 Source: https://foreignaffairs.gov.ng/nigeria/natural-resources/
2. Large Consumer Market: Nigeria has a massive customer base with a population of more than 200 million people, 75% of whom are under the age of 30. Therefore, Nigeria has a very strong domestic industrial sector, which is supported by attractive incentives for investors.
3. Free Market Economy: The government of Nigeria has created an enabling business environment that welcomes and allows investors to thrive. Administrative and bureaucratic procedures have been streamlined, and policies and programs that guarantee a free-market economy exist in Nigeria, making it favourable for industries and businesses.
4. Attractive Incentives: To enhance the free-market economy space in Nigeria, the government has also included attractive incentive packages for private sector investors within and outside the country and access to government funds through the Nigeria Investment Promotion Commission (NIPC). https://www.nipc.gov.ng/government-funds/
5. Fast Growing Economy: In reference to the GDP growth graph above, it is quite notable to see a USD $432.9 billion at the end of Q4 2020 to an increase of USD $440.8 billion at the end of Q4 2021. As of the third quarter of 2022, the GDP remained strong, placing it ahead of two other emerging markets, Brazil and Russia, and just behind India and China. Furthermore, due to its matured industries that are ready for investment, it can also be considered a frontier market.
We have recorded a massive breakthrough in seed funding, and Nollywood is now the third-largest in the movie industry. As a result, the entertainment, music, and media industries, as well as the fintech and telecommunications markets, have grown significantly. Aliko Dangote, the richest man in Africa, has commenced the establishment of the largest oil refinery and seaport in Africa within the Lekki Free Trade Zone in Lagos, which is technically a foreseen home for multiple returns on investment (ROI).
6. Strong Banking & Financial Sector: In Nigeria, there are no issues with your banking and financial needs. It is a huge industry that has enough capabilities and is duly regulated to allow room to exercise all required banking duties from within and outside the country.
7. Strategic Access to ECOWAS and the Rest of Africa: Through programs like the Africa Growth and Opportunity Act (AGOA) and ECOWAS, a business located in Nigeria has access to other regional and global markets. Equally, the land borders with Benin, Cameroon, and Chad as well as the 168,000km road network have made accessibility guaranteed for investors in Nigeria.
8. Infrastructure Transformation: Nigeria's economy has seen a shift from a mono-product economy to an industrialised economy. This is because there have been a lot of structural-developmental changes within the transportation, telecommunication, energy, electricity, and water supply sectors. These are economic drivers that propel Nigeria as an investment-ready country. 
9. Commitment to Improving the Business Environment: According to the World Bank in 2020, Nigeria is ranked as one of the 100 countries that have improved the ease of doing business.
The removal of bottlenecks and bureaucratic constraints and the creation of new initiatives and reforms have improved the business environment for doing business in Nigeria. The typical reforms include 48 hours to 5 days for business or company registration; an 80% tariff reduction in the NAFDAC registration fee; and more, making Nigeria one of the best countries in the sub-Saharan.

Read Also: Starting a Business in Ghana
Is it safe to do business and invest in Nigeria?
As much as we have highlighted the benefits of investing in Nigeria, it is pertinent that as a foreigner looking to invest in Nigeria, you also understand the risks that a typical investor is bound to face in Nigeria. The major risks are listed below;
The Inflation Rate: Nigeria has a relatively high rate of inflation, and this has negatively impacted the capacity of both local and international businesses. This has also reduced the foreign competitiveness of the country.
Currency Volatility: This placed a huge risk on the country as a currency disparity arose at a point in Nigeria. The Central Bank of Nigeria decided to peg the exchange rate, which sporadically created a huge gap between the official rate and the black-market rate. This has further complicated problems for businesses dealing with foreign entities.
The currency instability affects the pricing of products and services in the market and the repartition of funds. Hence, it is especially important for foreign investors to plan, create a plan, and keep an eye on the fluctuations to bounce back from the disruptions.
Political Instability: Nigeria is a democratic country with two major ruling political parties and opposing agendas that change from one administration to the next, which could hinder the start of local or international businesses. Therefore, before establishing fully in the country, foreign investors should monitor political cycles and assess the environment.
Security Instability: The emergence of terrorist activity in the northern-eastern part of Nigeria poses a significant risk to any businesses within the region. It would be advisable for any investors to stay away from that region.
Lack of Quality Business Information: Nigeria gravely suffers from a lack of a coordinated database system, making it difficult for new entrant businesses to fully grasp the level of growth of the industry they will play in which could affect the business overall.
Changes in Law and Expropriation: Nigeria is an emerging country. Hence, changes to its laws could have a significant negative impact on the country's economy because they frequently occur without prior notice and are sometimes carried out to avoid compensating foreign investors. Therefore, it is pertinent that all businesses keep up with the ever-changing rules and laws by working with trustworthy expertise that will help adhere to Nigerian business standards and avoid regulatory pitfalls.
Reading through, despite the risks associated with investing in Nigeria, you would realise that the country is commercialised tersely as the major country to attribute to investors' expansion vision. Are you an investor willing to Invest in Nigeria or interested in any of the Country's booming industries? Let us be the hand-holding partner you will ever need. Contact here us today.