The Growth of the Exports Market of Nigeria – Opportunities for Investors
Nigeria is largely known as a net exporter of crude oil, but another cash cow is usually not mentioned: the export of non-oil commodities that present opportunities for investors. The market value of non-oil commodities exported from Nigeria as of 2022 was estimated at US$ 5.6 billion, 39.1% more than the previous year. The export trade in Nigeria is divided into three sectors: crude oil, which accounts for 78.74% of the total export valued at $45.87bn, non-crude oil, which has a share of 11.72% at $6.84bn, and non-oil export, which has a share of 9.5% at $5.56bn. Agriculture (23.4%), raw materials (40.2%), energy (2.6%), solid minerals (3.3%), and manufactured goods (30.5%) make up the portion of the non-oil export industry. The revenue earned by each category in 2022 is depicted in the graphic below.
Read Also: Doing Business In Nigeria – Questions Investors Ask
Export Trend Analysis of Nigeria – 2020 to 2022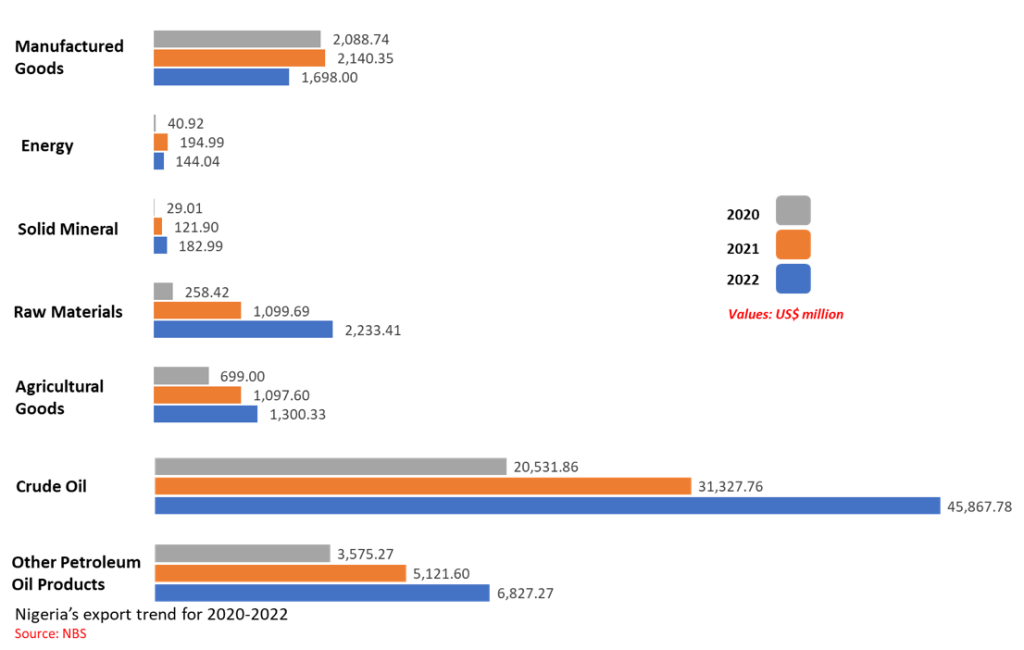 Data from the National Bureau of Statistics shows a 3-year growth in exports out of Nigeria in all their categories. Exports of agricultural products reached a value of $1.30bn in 2022, a rise of 16% and 36% from the recorded values of $1.09bn in 2021 and $699m in 2020, respectively. Exports of raw materials were worth $2.23bn in 2022, up 51% and 77 % from the values reported in 2021 ($1.09bn) and 2020 ($258m). Exports of solid minerals reached a value of $182.99m in 2022, up from $121.90 in 2021 and 76.50% from 29.01m in 2020. This represents a growth of 33.38% and 76.50%, respectively. Energy exports in 2022 totalled $144.04m, a decrease of 35.37% from the $194.99m exported in 2021 and an increase of 79.01% from the $40.92m exported in 2020. Exports of manufactured products were worth $1.70bn in 2022. Compared to the value recorded in 2021 ($2.14bn), this shows a decrease of 26.05% and a rise of 2.41% from the value recorded in 2020 ($2.09bn). When compared to the figure recorded in 2022 ($45.88bn), the total value of crude oil exports increased by 31.70% in 2021 ($31.33bn). It also increased by 34.46% when compared to the same period in 2020 ($20.53bn). Exports of other oil products reached $6.83bn in 2022, a rise of 24.98% over the value of $5.12bn in 2021 and a 30.19% increase over $3.56bn in 2020.
Major Export Commodities from Nigeria
Aside drilling of oil, Nigeria's economy is very diverse and present far more opportunities for investors. Agriculture, mining, and manufacturing are also key sectors in Nigeria. Several non-oil exports come from these sectors. Commodities like cocoa beans, limestones, fertilizer, gold, rubber, leather, copper alloy, cashew, niobium, cigarettes etc make that list. The diagram below shows the top five most exported products across the non-oil sector.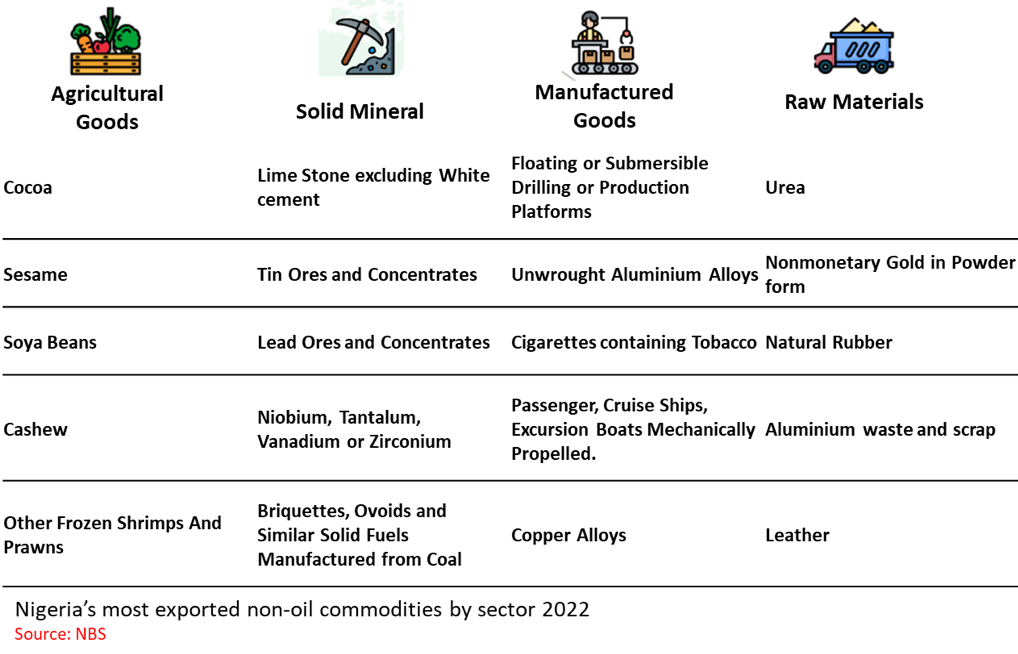 Agricultural exports included, among others, cocoa ($193.06m), sesame ($83.83m), soybeans ($27.24m), cashews ($20.78m), and various frozen shrimp and prawns ($10.19m). Limestones ($12.54m), tin ($9.11m), lead ($4.74m), and minerals from coal ($2.74m) were solid mineral goods that were exported to nations like China, Malaysia, the Niger Republic, Togo, Hong Kong, etc. Raw materials such as urea ($303.72m), gold ($36.20m), rubber ($10.63m), waste and scrap aluminium ($5.67m), and leather ($5.52m) were exported to Brazil, France, Switzerland, Spain, Italy, and other regions of Europe and South America. More than $1.70bn worth of manufactured commodities, including boats, ships, tobacco, copper alloy, and aluminium alloy, were sold to nations including Namibia, Equatorial Guinea, Japan, Cameroun, and the United Kingdom.
Read Also:
What are the major export destinations for these commodities?
What makes Nigeria a good place to start your export business?
Nigeria has a significant potential for an export industry due to its enormous natural resources, massive population, and strategic location in Africa. Some of the elements that make Nigeria a favourable destination for export business include:
Nigeria has an abundance of natural resources, including oil, gas, solid minerals, and agricultural products. These resources can be used for export and produce foreign exchange revenue.
Nigeria is strategically placed in West Africa, serving as a gateway to other countries in the sub-region. This position gives export enterprises access to regional markets and allows them to develop outside Nigeria.
The Nigerian government is committed to boosting exports and has created a variety of policies and programs to assist export-oriented firms. These policies include tax incentives, export financing, and export promotion programs.
Nigeria is seeing growth in emerging industries such as information technology, renewable energy, and creative industries. These industries give fresh potential for export-oriented firms.
Benefits of Establishing an export business in Nigeria
Establishing an export business in Nigeria can bring several benefits, some of which are:
Abundant Natural Resources: By tapping into these resources, you can source raw materials for your export business at competitive prices.
Competitive Labour Costs: Labour costs in Nigeria are relatively low compared to many other countries. This can help to reduce your production costs and increase your competitiveness in the global market.
Currency Depreciation: As a result of high inflation in Nigeria, the currency is relatively weak compared to pounds and dollars, making the cost of similar exported products cheaper in the international market.
Government Incentives: The Nigerian government offers several incentives for exporters, such as tax holidays, export financing, and export promotion programs. These incentives can help to reduce your business costs and increase your profitability.
Currency Exchange Rates: The Nigerian naira is relatively weak compared to major currencies such as the US dollar and the Euro. This means that when you earn foreign exchange through exports, you can get more value for your money when you exchange it into naira.
Summary Remarks
The article provides an overview of Nigeria's export industry for the year 2022, as reported by the National Bureau of Statistics and the Nigeria Export Promotion Council and cast a variety of available opportunities for investors. The total trade for 2022 was valued at $58.3bn, with total exports accounting for 51.15% of the total. The export industry in Nigeria is categorized into three sectors, namely crude oil, non-crude oil, and non-oil exports. Agriculture, raw materials, energy, solid minerals, and manufactured goods make up the non-oil export industry. The report shows significant growth in all categories of exports over the past three years, with the non-oil export industry experiencing the most significant growth, earning US$5.5 billion in 2022, the largest in the 45-year history. The article also highlights the major non-oil exported products, including cocoa, limestone, fertilizer, gold, rubber, and leather. The report also shows Nigeria's potential for an export business due to its abundant natural resources, massive population, and strategic location in Africa. The Nigerian government also has implemented several policies and programs to assist export-oriented firms, including tax incentives and export promotion programs. However, it is important to keep in mind that the export industry in Nigeria also has its challenges due to problems like trade restrictions, political unrest, security concerns, currency fluctuations, etc. Before entering the Nigerian market, exporters should do extensive study and consult with experts who understand the various opportunities for investors and where to invest to. Talk to us today